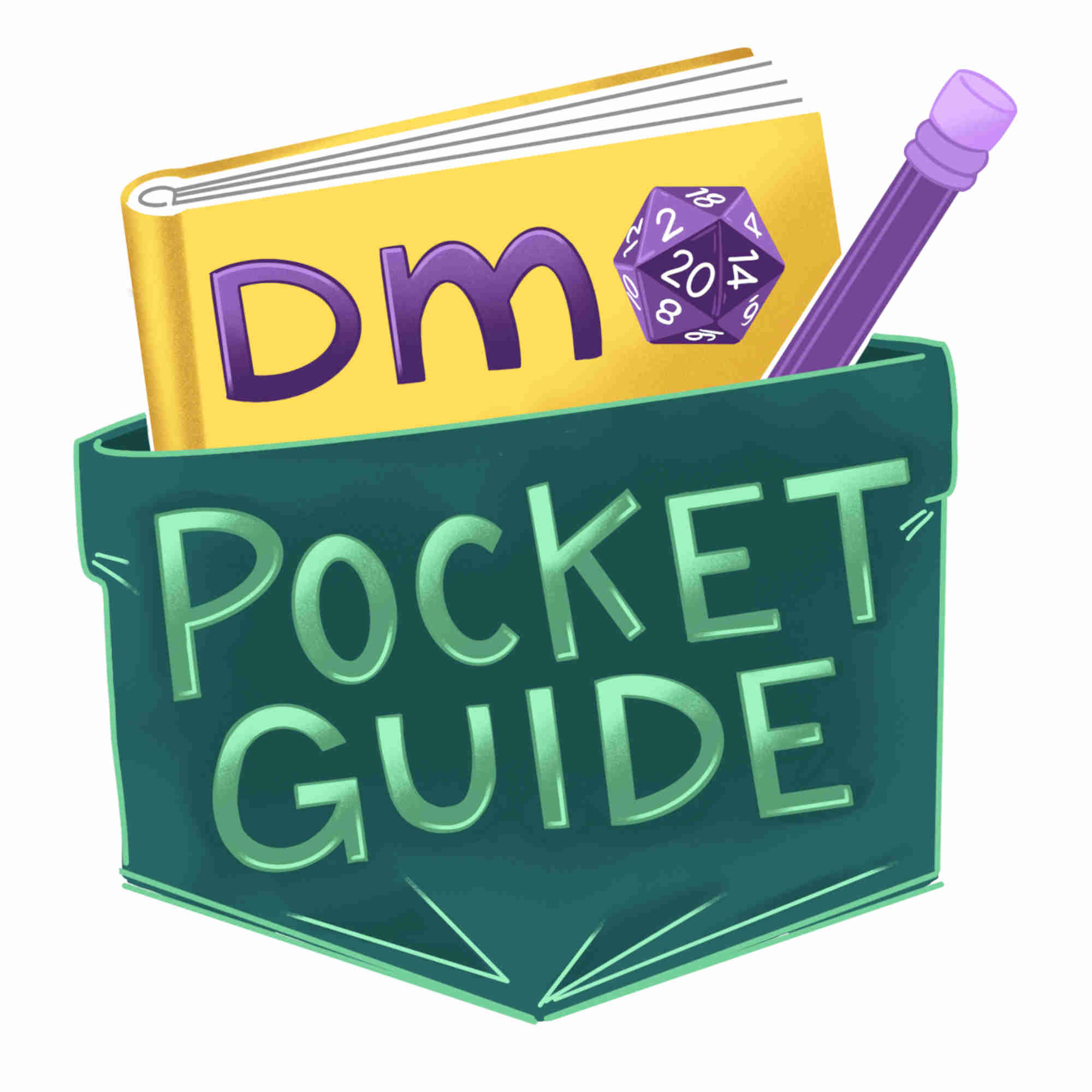 Today we're here to talk about Moonbeam, an atmospheric and powerful spell that Tricia absolutely did not use effectively for the longest time.  Save yourself the heartache and learn with us! Please like, review, and share to support DM's Pocket Guide! We're Tricia and Rachel from Roar Cat Reads.  If you would like to learn about a specific D&D rule or spell, send us a request at roarcatreads@gmail.com.  Transcripts of every episode are available!   If you want more rules, buy a copy of the Player's Handbook! Follow us on Twitter and Instagram  Artwork by Haley Boros DM's Pocket Guide is unofficial Fan Content permitted under the Fan Content Policy. Not approved/endorsed by Wizards. Portions of the materials used are property of Wizards of the Coast. ©Wizards of the Coast LLC.
Transcription
Welcome to DM's Pocket Guide, where we discuss the rules, spells, and monsters of Dungeons and Dragons, 5th edition.
Rachel: Okay, today we're gonna talk about the spell Moonbeam, which is on page 261 of the Player's Handbook.
Tricia: Excellent!
R: So this is a second level evocation spell –
T: Evocation! We've done an episode on the Schools of Magic. Did anything stick?
R: Err, I think it's the one where it, like, makes something out of magical energy.
T: Yes.
R: Like it manipulates magical energy.
T: Honestly, I still don't understand the Schools of Magic so well. I'll have to go and re-listen to our episode.
R: Yeah. I think evocation was one of those catch all ones… anyway, back to Moonbeam. It is an evocation spell. Its casting time is one action, so this is the thing you're gonna do on your turn. Its range is 120 feet which is pretty big, so you have a good area you can cast this in. It has verbal, somatic, and material components. So in order to cast this spell, the player will need to have on them several seeds of any moonseed plant and a piece of opalescent feldspar.
T: Sure, because those are things you usually have in your pocket
R: Yeah. I don't usually adhere to that rule exactly, but I'm sure there's a group out there that probably would.
T: Yeah. Material components in general is not something that we often play with, and I have never missed it. However, we've had one player who's kind of interested in picking up things along the way and figuring it out, and extremely high level spells that require something that costs a lot of money, it does prevent you from over-using. So, there's pros and cons–
R: To whether or not you want to include it, yeah, for sure. Okay, so you've gotta be able to speak, you've gotta be able to move, you've gotta have this stuff on you, and it lasts for up to a minute and it requires you to concentrate on it.
T: So you could break concentration on the caster and end this spell before that minute.
R: Yeah. Okay. So the spell text reads, a silvery beam of pale light shines down in a five foot radius, and it's a 40 foot high cylinder centered on a point within range. So this five foot radius tall thing within 120 feet of you.
T: You're probably only going to get one person basically.
R: Yeah. Right. If you think of most squares on a battle map are five feet or ten feet. It's pretty narrow. Until the spell ends, a dim light fills this cylinder, so it gets lit up.
T: Like a moonbeam!
R: Yeah. So I guess if it was in a dark place that would be shedding light. When a creature enters the spell's area for the first time on a turn or starts its turn there, it is engulfed in ghostly flames that cause searing pain. It's not like a nice pleasant Moonbeam. This is a burning torch of death.
T: Yeah! The name Moonbeam to me implies something like, gentle and nice. And in fact, in a recent session that I ran, a character cast this spell, and we did all the things for it, but I was playing it very mildly. Not at all like my NPC's were encased in flame and in searing pain! I'll do that better next time.
R: You definitely should have tried to move away from this thing. And yeah, it does sound pretty painful. It has to make a constitution saving throw. If it fails, it's gonna take 2D10 radiant damage, so it's pretty hefty.
T: Yeah. And especially if it's like, turn after turn.
R: Yeah, exactly. And half as much on a failed save. So it's one of those ones where you're always gonna be doing at least some damage.
T: That's great.
R: Yeah, I love this stuff. Another thing to note about this is, if it's a shape changer – the creature that this spell is cast on – they're going to make that saving throw with disadvantage. So that's…hags I think have that?
T: Mmhm. I could be somebody who would be under an illusion of any sort: invisibility, disguise self? Would that count?
R: I don't know. It says shape changers.
T: Oh, oh, oh. Okay. So werewolves. Ooo, yeah! I bet that's how it's designed: the moon is shining on you and so you're forced to struggle against this and perhaps transform.
R: Huh, yeah, that would be an interesting way to play it for sure. Okay. So they're rolling it at disadvantage to make that saving throw, and also if it fails, it instantly reverts to its original form and can't assume a different form until it leaves the spell's light.
T: Nice! Revealed by moonlight! Oh man, I wish I'd run this so much differently.
R: So when your turn's… after you cast this spell, provided it's still going, you can use an action to move the beam up to 60 feet in any direction. It's interesting it says an action there, because I think I would have assumed it was a bonus action to move the spell, but it's actually a whole turn.
T: It's almost like recasting it.
R: Uh, yeah, I guess it would be. Huh. Oh, well, I guess other than spending the spell slot.
T: Yeah, good point.
R: And then at higher levels, this spell changes a little bit. For every spell slot above the third level, you can add an extra 1d10.
T: It's real powerful. That moonlight's burning.
R: Mm-hmm.
T: Okay. That's a really powerful spell! It's guaranteed to cause damage, it can reveal shape changers, and it is probably going to force someone to move to get out of that space. Like, it's doing a lot of stuff.
R: Yeah, and with the range of 120 feet, you don't even have to be close to be able to do any of this stuff.
T: Yeah.
R: That's the spell Moonbeam on page 261 of the Player's Handbook.
Thanks for listening! If you have something you'd like us to cover, email it to roarcatreads@gmail.com or find us on Twitter and Instagram @roarcatreads.